If you are celebrating Valentine's day, this is a great dessert after a nice meal with your partner. And it is healthy too! I saw this dessert in it's original version, with cream and mascarpone, so I thought, this could be easily done raw as well. And it's super quick, so you don't have to spend hours in the kitchen.
This is what you need for 2:
1 avocado
1 banana
1-2 tablespoons raw cacao powder (or carob powder)
2 dates (soaked)
2 teaspoons agave syrup (not necessary) – you can add more dates to sweeten or leave it out as the banana is sweet enough.
filtered water
200-250 g raspberry (can be frozen as well)
nuts to decorate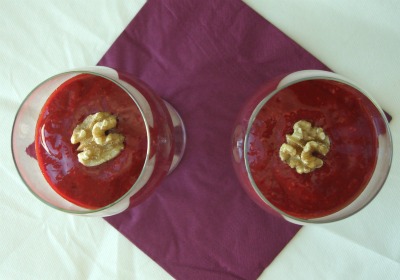 Mash the banana and avo before putting them into the blender or food processor. Add cacao powder and dates plus agave if needed. Blend until smooth and creamy. You can add some water to make the mix thinner if you wish. Pour it in glasses.
Then blend the berries smooth and pour it on the top of the chocolate layer. Decorate with nuts.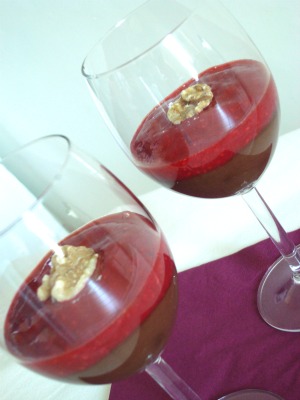 It is really yummy and you wouldn't tell that there is avocado in the choco mousse. A great dessert to finish off a romantic Valentine's day dinner 🙂 Enjoy and love each other! Happy Valentine's!