with Andrea & Warren
When: October 18th – 20th, 2012
Where: Hatta Fort Hotel, Dubai (www.hattaforthotel.com)
Are you feeling stressed or just would like to recharge? Join us for a weekend of yoga and relaxation, away from the city life in the quiet surroundings of the Hajar mountains at the Hatta Fort Hotel. The hotel is just over an hours drive from Dubai.

THE FUN OF WEEKEND RETREAT INCLUDES
2 nights accomodation in Deluxe Chalet-style room
non-alcoholic welcome drink upon arrival
daily healthy breakfast and dinner
3 group yoga sessions
1 health assessment, 1 NLP coaching (if you like)
Mandala coloring – another way of meditation to bring peace and improve concentration
1 Pranayama (breath control) session
enjoying the nature around and relaxation, relaxation and more…
Traditional Thai foot massage is available with Andrea at an extra cost
COST per person
Single Deluxe Chalet room – AED 2590
Double Deluxe Chalet room/person – AED 1965
Additional optional lunch package for AED 150 per person including (it's worth it):
Healthy lunch, water throughout the day, morning and mid-afternoon tea/coffee break, inclusive of fresh cut fruits, fresh juices and dried fruits
Other hotel facilities
Swimming pools, target archery, tennis, billiards, mini-golf, gym, jogging and walking route in the mountains
About Andrea
Andrea is an enthusiastic certified yoga teacher, thai foot massage therapist, sound massage and Body Spin practitioner. She believes that the practice of yoga is a fantastic tool to keep ones body fit, the mind focused and relaxed. She will show you how to implement yoga in your everyday life.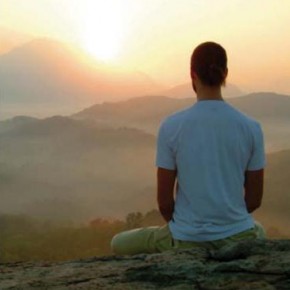 About Warren
Warren has been helping people to reach their fitness and personal goals in the past 13 years. He will be offering various forms of meditation techniques and for those who want to skip a yoga session will show some exercises. With his NLP background you will have the opportunity to experience a coaching session individually or with your partner. NLP is a process of reprogramming your mental outlook and beliefs that could be holding you back from success and happiness.
Why the Hatta Fort Hotel?
The 4 star Hatta Fort Hotel is away from the city, one of the best surroundings of the UAE, nestled by the Hajar mountains. The resort is green, and on the 80 acres of land there's plenty of space for relaxation, walks and different activities. Our yoga sessions will take place on the top of a hill, where we can also watch the sunrise or sunset.
If you'd like to bring your children along, there are lots of activities for them as well, while you are pacticing yoga.
We'll have a little orientation meet up on Thursday 18th evening. The program starts Friday morning with a yoga session.
For further details on how to join our retreat please email to andrea (at) yoganutrition.com or call +971 50 584 2934
Limited spaces are available. The retreat is on with minimum of 6 participants. Please book at least one week in advance.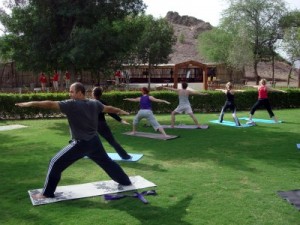 "Health is wealth, peace of mind is happiness, yoga shows the way." – Swami Vishnudevananda