Did you know that according to research, 80% of women develop rectus diastasis during pregnancy? This means, the abdominal muscle separate along the line of the bellybutton. This not only creates aesthetic problem in the abdominal area, but lots of different physical and organ related problem can develop. Hernia in the bellybutton and back ache is the most general, but spinal hernia, incontinence problems can develop as well, just because the abdominal wall is open and the abs can't fulfill its main function.
It is strongly advised to stay away from normal abdominal exercises, if you have diastasis recti, because in these cases the abdominal wall separates, the connective tissue – the linea alba -, which keeps the rectus abdominis together, will either stretch a lot or tear. If during rolling, air gets into the stomach creating abdominal pressure, the muscles won't be able to perform contractions and relaxing. This way we can't build muscle, but the connective tissue will tear even more due to the pressure.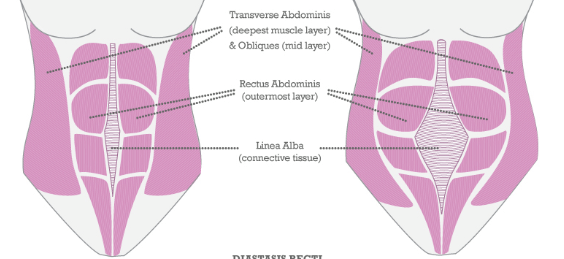 The essence of LoveYourBelly lies in the special body position and breathing technique, which stabilizes the damaged muscles based on anatomy, so that they can shorten during exercise, and so develop.
During the workshop, ladies will learn these efficient exercises and how to breathe and perform them, as well as talk about diet and eating habits thoroughly. This is necessary, because with damaged abs it's not recommended to do any intense aerob exercise, (which normally helps with fat loss), thus moms are struggling to get back to their ideal weight. The damaged muscle must be 'off loaded', so that to avoid developing physical symptoms in the body. Because of these reasons it is necessary to change mothers' lifestyle, starting with the most important pillar, nutrition.
Based on feedback from the last few years, a 3-4 finger abs split can be closed in 6-8 weeks.
HOW CAN YOU IDENTIFY IF YOU HAVE A SPLIT AND MEASURE THE SIZE OF THE MUSCLE SEPARATION?
Lie down on your back, bend your knees, feet on the floor close to your buttocks. Place your fingers on your belly, bellybutton height. Slowly lift your head. The abdominal muscles will contract and you can identify the size of the gap with your fingers.
Where does LoveYourBelly come from?
The LoveYourBelly method has been developed by Hungarian born Timea Bagyinka, recreational instructor, yoga and Pilates teacher. She has been researching in this topic for 10 years and 4 years ago the 18 exercises of LoveYourBelly was born. Due to the special body positioning and movements the abdominal muscles can recover very fast. Noticing the success of the program, Timea has been approached by doctors from the Semmelweis Medical University to do scientific research on it. The goal is to introduce and teach this phenomenon and method at the medical university as well.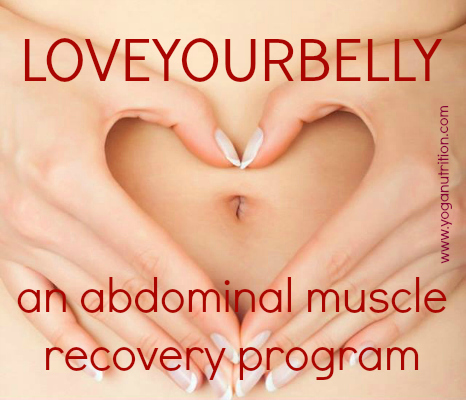 JOIN MY NEXT LOVEYOURBELLY WORKSHOP IN DUBAI HERE. NOT IN DUBAI? NO PROBLEM, GET IN TOUCH AND WE'LL ARRANGE A SESSION ONLINE.