Before I went to my yoga teachers training I used to take private sessions with a yoga teacher. She gave me my first neti pot, when I was telling her about my blocked nose. Thank you Sonia!
Neti is a technique to cleanse the nose, nasal passages and sinuses and is one of the kriyas (yogic cleansing techniques). Practiced daily, this simple hygienic exercise helps to counteract the effects of pollution, dust and pollen. It is especially beneficial for people with asthma, allergies and other respiratory problems.
Cleansing your nostrils with water is called the jala neti.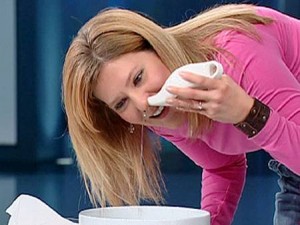 How it works:
Fill your neti pot with lukewarm water. Add 1/2 teaspoon of sea salt and stir it well.
Bend forward, tilt your head to the left, and pour water through your right nostril, letting the water flow out on the left. Don't breathe through the nose.
Blow the nose and repeat on the other side.
Practice daily. If you feel cold is coming on, you can perform this two-three times daily.
I have found it especially helpful during my pregnancy, as my nostrils were blocked all the time. If you have the same problem, this will definitely help!
Neti pots are available in plastic, ceramic and steel. Here is a short video that summarizes how to use it: