Cream soups are really quick and easy to make which is great for a busy mom like me 🙂 This is what I made after my colon hydrotherapy session.
Some of the health benefits of celery:
strengthens immune system due to the high amount of Vitamin C
diuretic, which comes from its balance of sodium and potassium which help to flush out excess fluid from the body
celery contains coumarins, which has been shown to be effective in the prevention of cancer
anti-inflammatory properties
the pthalides in celery may lower cholesterol by increasing bile acid secretion
the calcium, magnesium and potassium content helps regulate blood pressure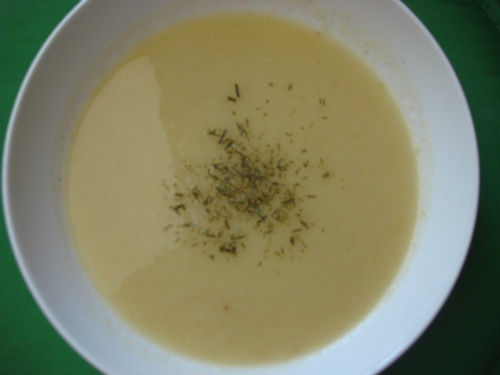 Celery-Turnip cream soup (without the cream)
Author:
Andrea from yoganutrition.com
Ingredients
1 medium size turnip root
5-6 stalks of celery (or as much as you like)
1 small onion
1 tbs coconut or olive oil
1,5 liter water
Salt, pepper
Chives to decorate
Instructions
Cut the turnip and celery into bigger pieces, dice the onion.
Heat up the oil and braise the veggies a bit.
Pour the water on top and cook until the veggies are tender, but not overcooked. When ready, pour the soup into the blender. Blend until smooth.
Add salt and pepper to taste. Sprinkle some chives or red paprika on top when serving.
 Do you like soups? What's your favourite?