Here's a simple and very tasty asparagus salad recipe. Great during hot weather, as it is quite refreshing.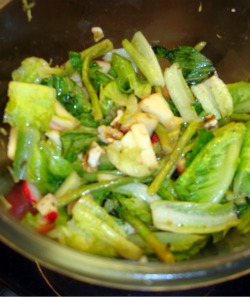 Asparagus not only tastes delicious, but is also a wonderful source of nutrients for a healthy body and mind. It is an anti-inflammatory, antioxidant, helps to fight against cancer, good for your heart's health, prevents folate-deficiency, diuretic. The healthy fiber and protein content of asparagus stabilizes our digestion, curbs overeating, maintains a low blood sugar and prevents constipation. One cup of asparagus also contains only 43 calories. Excellent source of Vitamin K and C.
1 bunch of asparagus (boil it for few minutes in salted water)
1 head of lettuce
1 large apple
radish
walnuts
Dressing:
Juice of half lemon
Olive oil
Honey
Herbs
Slice the vegetables into small pieces; combine the ingredients of the dressing and pour it on the top. Mix and ready to eat. Enjoy!