I've posted a chia pudding recipe with these nutritious, tiny seeds before. As I am partaking in the love your blog challenge in February, finally managed to put some 'long wanted to do' info on chia, that has been part of my everyday diet for a while.
Chia is nature's complete superfood. Complete, because it is a plant based complete protein food, containing all eight essential amino acids (essential amino acids are what are bodies can't assimilate). 1 tablespoon chia (15g) provides all your daily requirement of Omega 3.
Chia seeds are originally grown in Mexico and the Southwest, and were an important part of the Aztec and Mayan diet. Chia is a member of the mint family. The seeds are white or black, and have the same nutritional value, you can just pick your colour 🙂
Some of chia's health benefits:
Weight loss: the seeds' essential fatty acids boost the metabolism and promote lean muscle mass.
High quality protein
Detoxification and elimination: the swelling action of Chia in the body helps to cleanse and soothe the colon, and absorb toxins while lubricating and strengthening peristaltic action
Stabilizes blood sugar
Energizing
Can help to stabilize blood pressure
Anti-inflammatory
Antioxidant
Great source of fibre and other nutrients such as calcium, iron, magnesium, potassium, etc.
Brain power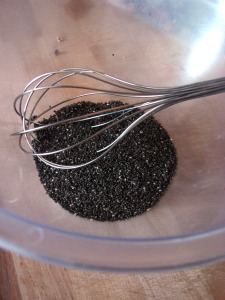 How to eat chia seeds
Chia is really easy to include in your everyday diet. You can sprinkle it on your salad, into your smoothie, cereal. Add to bread and muffin recipes. Adding chia to liquid, such as your favourite nut milk, will swell and your pudding is ready. Mexicans have it sprinkled in water with lemon or lime, and it's called Chia Fresca. Chia seeds have a mild, slightly nutty flavour. Don't need to be ground for use.
I like to sprinkle some on my morning smoothies, and add it to my baby's food regularly as well. She loves it! You can even sprout it – I need to try that one 🙂
Have you tried them yet? If so, how do you like to use chia seeds?