Let's talk about eating and business as this is a general challenge for me as well, but need to make the effort if I'd like to stay healthy. And healthy eating shouldn't be hard.
We all get busy. So I wanted to share some tips with you for when you are really busy, but still want to eat healthy, because it makes you feel GREAT to keep eating healthy, right?! And we aren't going to let "being busy" stop us from feeling great, right?! Well, I have some tips for you on what you can eat to stay healthy when you are busy!
Smoothies.
My all time favourites. I drink them most of the mornings as they are quick to make and nutritious. Just pour some coconut water, rice milk, almond or hemp milk into the blender, then throw in your fruits AND some veggies (spinach, celery, cucumber, romaine lettuce, just to name a few). Add some protein if you like (hemp seed or chia seed, or maybe a scoop of hemp or pea protein powder) and some healthy fats (avocado, coconut milk or the proteins I mentioned before which also have you covered on the healthy-fat front!). For extra flavor, add some vanilla extract or dash of cinnamon. If you like chocolate like me, add some raw cacao powder too. For smoothie recipe ideas you can always join my 30-day smoothie challenge, where you'll receive weekly yummy, smoothie recipes to cut out the thinking part from your preparation.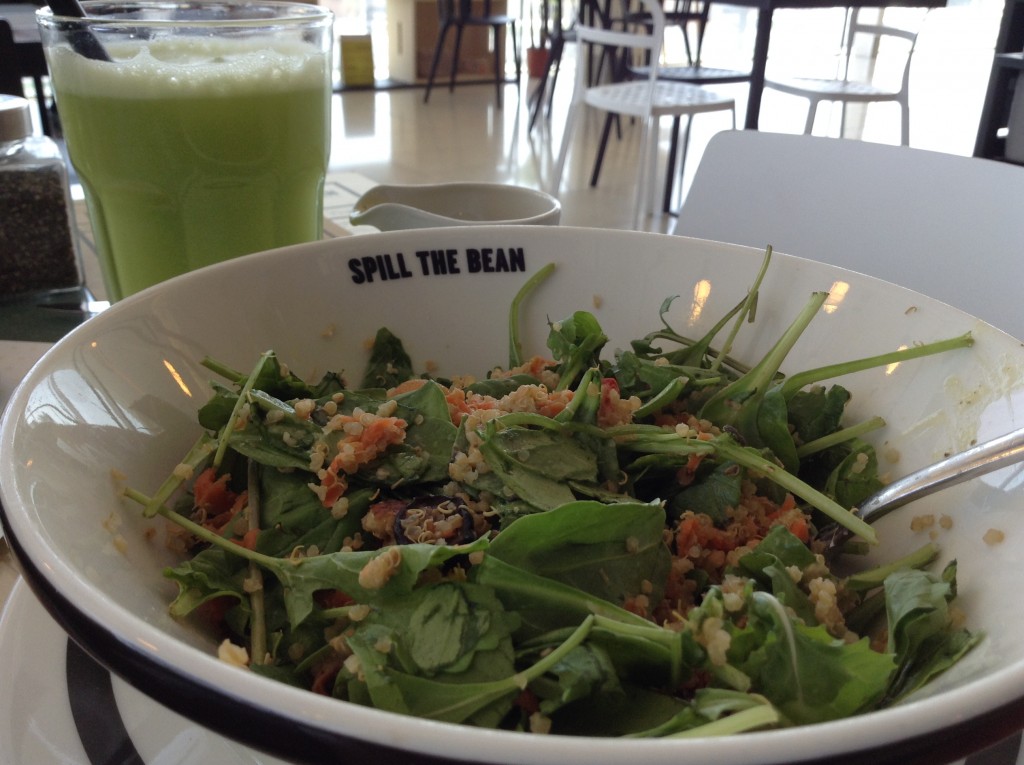 Salads.
Chop up a bunch of lettuce – romaine or red leaf – and add some spinach. Pile on some other veggies – tomatoes, cucumbers, carrots, radishes, sliced beets, bell peppers, onions…whatever you like.
Add some protein. Choose pumpkin seeds, hemp seeds, kidney beans, sprouts, a hard-boiled egg, (or clean animal protein if you eat).
Make a quick dressing with stone-ground mustard, olive oil, lemon, and maybe a bit of honey. Toss it all together and eat.
If you chop the veggies in bulk you can make a couple salads at a time, store them in jars in the fridge, but don't add the dressing to them yet. They usually last a couple days.
Know where you can get healthy take-out.
This could be from a nearby restaurant (I just recently discovered a healthy place very closeby) or somewhere they prepare healthy food to go. My favourite places in Dubai to take away or even dine in are the Bestro in Dubai Mall, Sophie's on the Palm or Change Initiative on Sheikh Zayed road, and recently Chez Amy's in Jumeirah Park Pavilion.
No, it's not quite as cheap as buying and preparing it yourself, but if you are a busy person (OR you just don't enjoy cooking) and would just spend the money on junky fast food or pizza delivery, then it's a much better value.
It's always the small habits that add up. Don't let yourself fall back into old habits that cause you to not feel so great! I'd love to hear from you, too:  what do you like to eat when you are really busy?
Stay healthy,
Andrea