This is one of the most delicious cakes I have ever eaten. I was looking for a grain free, high protein sweet treat recipe and I have found this on Elena's Pantry, which is a great site if you are looking for paleo or grain free recipes.
I've ended up preparing this for my daughter's 2nd birthday too and she loved it. This was her first time that she had something with sugar, although the cake is made with coconut palm sugar, so there's no harm in it, because it doesn't raise your blood sugar level like refined sugar. It is a delicious low-glycemic sweetener.
Great pre- or post workout snack too, high in protein and fibre, that will keep you full. My clients loved it too! 🙂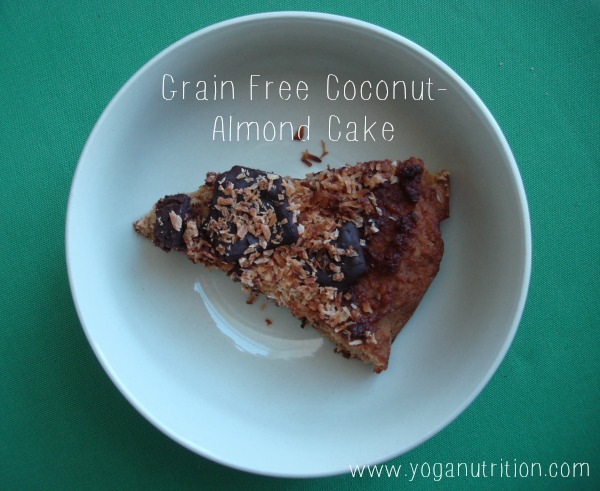 Grain free coconut-almond bars
Author:
Andrea from yoganutrition.com
Ingredients
4 eggs
¾ cup organic coconut milk (I like to make sure, there's nothing added to it)
¾ cup coconut palm sugar (other name is coconut blossom sugar)
½ cup blanched almond flour (I just grind whole almond pieces to make the "flour")
½ cup coconut flour
¼ tsp Celtic sea salt or Himalayan salt
½ tsp baking soda
¼ cup unsweetened, shredded coconut
¾ cup min. 70 % dark chocolate (approx. 100 g), cut into small pieces
Instructions
In the above order, mix all ingredients.
Leave some shredded coconut and chocolate pieces to sprinkle on top.
I bake it in a round cake shape, but you can use any baking form you have.
Bake it at 180 Celsius for about 30 minutes, check if it needs more time.
I've also tried it without chocolate, just adding a tablespoon raw cacao powder to the mix.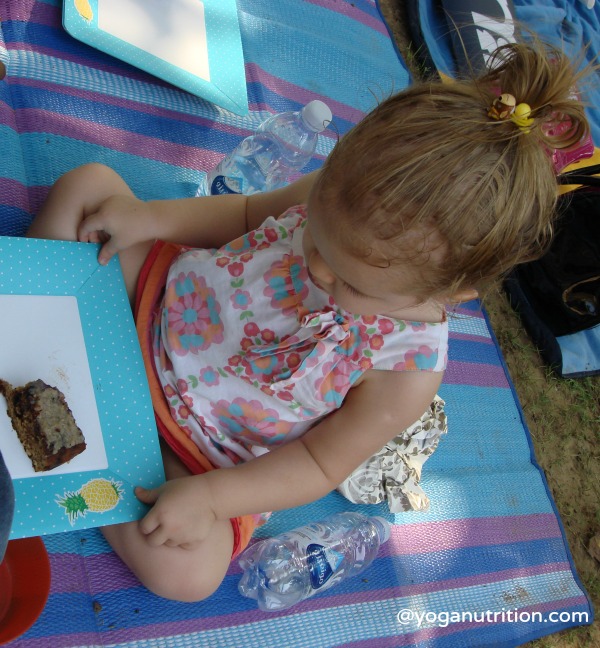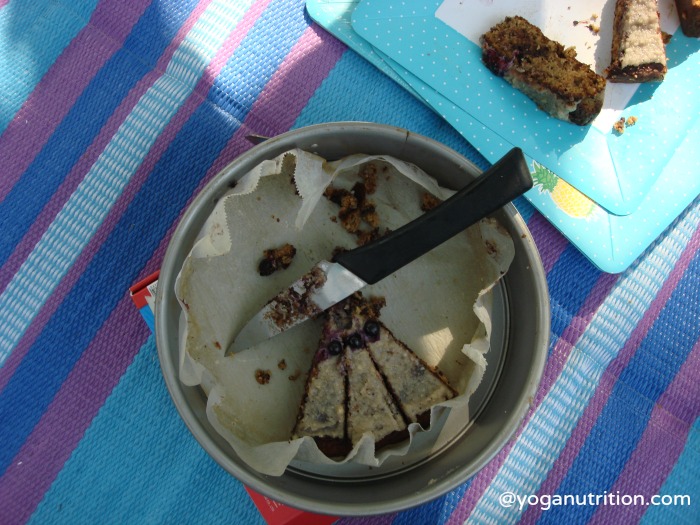 For my little girl's birthday I've prepared a cashew topping, by blending some pre-soaked cashew with some raw honey and blueberries.
Enjoy and let me know how it turned out!
Love,
Andrea