The other day I had a delicious flour-less zucchini brownie at Sophie's Café Dubai and wanted to re-create it as soon as possible 🙂 I've used this recipe as a base. It's simple and yumm!
Grain free Zucchini Brownie
Delicious grain free zucchini brownie. For a vegan version replace the egg with flax egg (1 tablespoon of ground flax seed + 3 tbsp of water)
Author:
Andrea from yoganutrition.com
Ingredients
1 cup of organic peanut butter or almond butter. You can even make your own
1½ cup of grated and chopped zucchini. I used a shredder and then chopped it up into really small pieces.
⅓ cup of raw honey
1 egg
1 tsp of vanilla
1 tsp of baking soda
1 tsp of cinnamon
½ tsp of nutmeg
1 tbsp ground flax seed
1 tbsp raw cacao powder
1 cup of raw cacao nibs
Instructions
Preheat the oven at 175 Celsius (350 F)
Combine all ingredients in a large bowl.
Pour into a baking pan and bake 30 - 60 minutes or until a toothpick comes out clean -- you have to keep checking the center of the pan for the brownies to set up, so the time will depend on your oven.
Cool completely, cut into squares or slices, and enjoy!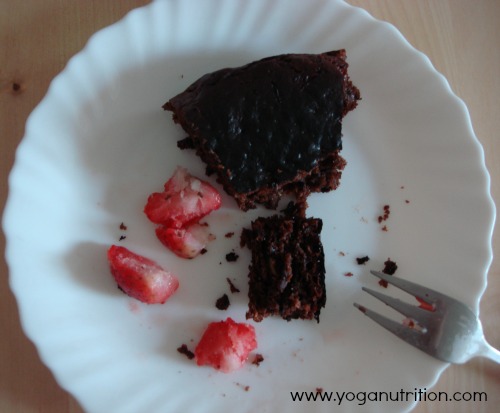 Mine came out semi-moist so for a moister brownie I will add some more zucchini next time.