Happy New Year! Hope you had a wonderful holiday season. I am just getting back into my yoga practice and preparing for a 3 day juice detox, as I feel my system needs some internal cleanse 🙂 I will keep you updated how it goes.
For the last couple of days I was craving tomato sauce with pasta. I love everything Italian, so I thought I open my Italian vegetarian cookbook, The Vegeterranean and I've found this delicious tomato sauce recipe, that even my verrrrrry fussy baby girl, Laura liked. She had it with buckwheat, I had it with wholewheat spaghetti.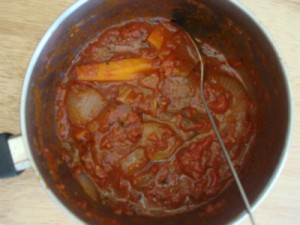 Tomato Sauce a la Italiana
Author:
Andrea from yoganutrition.com
Ingredients
800g peeled tomatoes
1 small carrot, peeled and halved lengthwise
1 small onion, peeled and halved
1 small celery stalk, cleaned and halved
1 sprig of parsley, rinsed
3 basil leaves, rinsed (I used dried basil as I didn't have fresh at home)
1-2 garlic cloves, peeled and gently smashed
5 tablespoons extra virgin olive oil
1 teaspoon Celtic sea salt, or to taste (I omitted it, because I wanted to feed my baby with it as well)
Instructions
Pass the tomatoes through a food mill and discard the seeds (I didn't).
Put all ingredients into a pot and cook over a medium-high heat. As soon as the sauce comes to a boil, reduce to a simmer and continue to cook for 20 minutes, uncovered, stirring occasionally.
Taste for sweetness. If the sauce is too biter, add some olive oil and a pinch of sodium bicarbonate (not sugar!) and simmer for additional 5 minutes.
The original recipe suggests removing the aromatic vegetables with a spoon, however I didn't. We ate it as is 🙂
You can use the sauce in addition to other recipes as well.
Tomatoes are rich in antioxidants and lycopene, which is a powerful pigment important in the prevention of cancer. It is not produced by the body, so needs to be derived from our diet. Very-very low in calories, so you can eat as much as you like.
Please feel free to comment your thoughts below and join the conversation on Facebook.