As my little baby girl was approaching 6 months of age, it was time to give her some solids especially that my milk supply wasn't enough for her any more. It's been a month now since the first apple puree, but we are still in the experimental phase. Vegetables have just recently been a success. The first one she really liked is an orange colour mixture 😀 – carrot, butternut squash and apple.
All the purees are home made with the help of the really handy Philips Avent's combined steamer and blender. It really makes food preparation so much easier and faster. Here is what I've tried in the first month of weaning so far:
Apple, pear, carrot, butternut squash, sweet potato, papaya (raw, mashed), broccoli, pomegranate juice (I blend the pomegranate, then press it through a strainer to get all the juice out), rock melon, peach, beetroot, zucchini, gem squash.
Laura loves avocado and banana just mashed up! 🙂 No wonder I love them too! 😉
Apart from the avo and banana, I usually freeze the leftovers in ice trays. It's really handy to have a selection of food ready and just mix and match later on.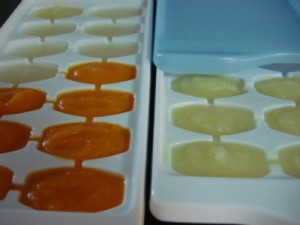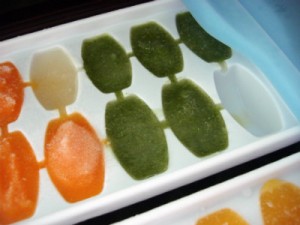 I encourage all moms to prepare fresh food to the babies for optimal nutrition. It's so easy.