LoveYourBelly – an abdominal muscles recovery program (especially great postnatal)

Do you know which muscles we work when doing abdominal exercises?
rectus abdominis
external oblique
internal oblique
transversus abdominis
etc…
These muscles make up the body's core. They ensure the proper posture of the spinal column, and support the internal organs. They play a role in legwork as well, like simple walking, running, jumping or kicking. And of course they have crucial role in breathing and digesting as well. So it is clear that we need to pay attention to keep our abdominal muscles in good shape for a healthy body function.
During the 3 hour workshop you will learn:
all you need to know about the abdominal structure, function and how to improve the muscles
the most effective abdominal strengthening exercises, which then you can practice at home day by day
how to work your muscles all the time
how you can optimize your lifestyle and eating habits without actually dieting: we'll get a bit lost in the world of calories, carbs, fat and proteins and give you basic nutritional tips that you can implement right away
Who can benefit from the program?
There are very limited safe exercises available for those who have different spinal and joint problems, or for ladies diagnosed with diastasis (open abdominal muscles) after birth. The specific exercises of the Love Your Belly recovery program can be performed with safety, even in these cases, as during the exercises we completely take the load off the spine and focus on strengthening the abdominal muscles, without any risks.
The exercises are recommended:
if you'd like to get rid of fat around your belly
for those with hernia (bellybutton, groin, spine)
diastasis – open abdominal muscles after birth
pregnant ladies (you can do the lighter version form the second trimester)
recovering after c-section
for those with extra weight due to different hormonal problems
if you have back or lower back ache
if you haven't been living an active lifestyle
if you'd like to fight the extra weight
and for every beginner wanting to live a healthier lifestyle and would like to have a nice, toned and flat belly
WHAT IS DIASTASIS?
The rectus abdominis can be harmed in many cases during pregnancy. The muscles separate in the line of the belly button, vertically. This can be caused by many things, but can't be avoided. Apart from aesthetically covering our organs, abdominal muscles serve as support. If it gets damaged, then can not fulfill its function and can make moms life very difficult, and because of the extra load on the abs when lifting the babies, can cause serious ailments (e.g. hernia, incontinence of urine..)
If we learn how to use our muscles properly and do the appropriate exercises, the abdominal muscles are able to get strong and the gap between the muscles can be reduced to minimal.
HOW CAN YOU IDENTIFY IF YOU HAVE A GAP AND MEASURE THE SIZE OF THE OPENING?
Lie down on your back, bend your knees, feet on the floor close to your buttocks. Place your fingers on your belly, bellybutton height. Slowly lift your head. The abdominal muscles will contract and you can identify the size of the gap from the belly button down and up.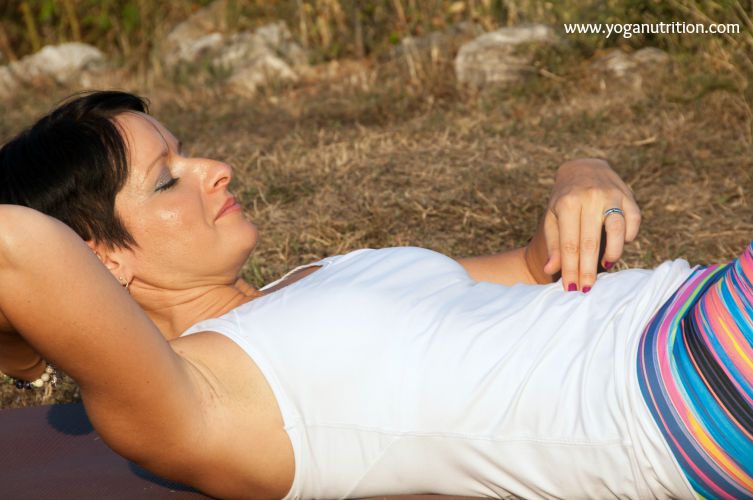 Are you ready to get started?
UPCOMING LOVEYOURBELLY WORKSHOPS in Dubai
Saturday, November 5th, 2016 – 2-5 PM | Location: Naya Yoga & Pilates, Dubai, Motor City
Investment: AED 300
Space is limited.
If you'd like to register for the next workshops please contact me: +971 50 584 2934 or andrea@yoganutrition.com
If the above date is not suitable for you, get in touch for a private or even for a virtual workshop!