The whole food reset is an online seasonal clean eating program ideal for those of you who want to get back on track and optimize your health with holistic nutrition and lifestyle tips.
This 14-day WHOLE FOOD RESET – WEIGHT LOSS FOR BEGINNERS program is a flawless fit for anyone who wants to:
✓     Ditch the afternoon crash and burn (you can make it through the workday without coffee or sugary snacks. Promise!)
✓     Lose weight naturally and quickly
✓     Look younger and feel lighter
✓     Reduce your toxic load (and the extra pounds it keeps on)
✓     Crank up your metabolism, big time
✓     Cleanse before trying for a baby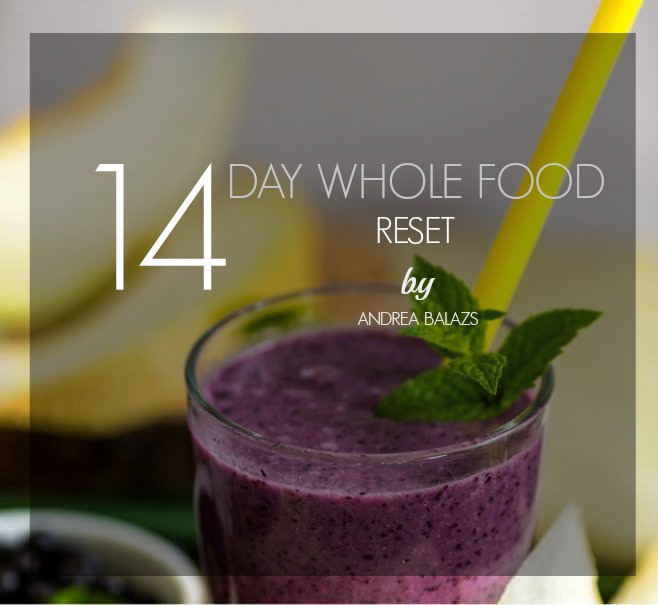 What's included?
Guide: a comprehensive manual showing you exactly how to detox in a safe and natural way, including exercises for emotional and physical detoxification
Recipe Guide: packed with over 60 scrumptious recipes that will improve digestion, decrease inflammation, and keep you feeling satisfied
Suggested Meals for 14 days: this will help you stay on track and take the guesswork out of meals during your cleanse
a day-by-day overview of your entire program, with easy-to-follow recipes that make this journey easy as 1-2-3
Grocery Shopping List: to make trips to the supermarket super simple, which makes prepping, preparing, and cooking for your detox a breeze
Food Diary: this amazing tool will help you keep track of how you're feeling physically, mentally, and emotionally throughout the program
Daily Email Support: just like it sounds, I'll be in your inbox daily to provide support & accountability
Bonus: 20-minutes mini coaching session either before or after the cleanse with Andrea over the phone or Skype
This reset changes seasonally and can be done repeatedly and transition into a lifestyle easily.
Your investment in Yourself is only USD 57! 
Once you sign up all materials will be on the detox platform and can start right away!
Please get in touch if you have any more questions.
Note: as this is an online program, no refunds.