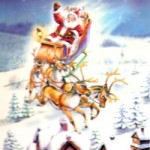 It is this time of the year again! And I love Christmas! Especially now that after 4 years not being home for Christmas, I get to spend it with my family in Hungary.
We are celebrating on Christmas Eve on the 24th of December. That's when the close family gets together having a nice Christmas dinner, singing traditional songs, searching for presents under the Christmas tree and just having a good time filled with love.
I remember when I was a child, me and my brother were taken to our Grandparents while all the preparation was done at home. And while we were driving back to our place, we were checking the windows on the way, looking for Christmas trees with lights on, which meant that the Angels were already there in those homes. It was so exciting.
We usually have a very simple menu on the evening. We begin with a small starter, then have fried fish with potato salad. The dessert is biegli (which is pastry roll filled with walnut or poppy seeds) and sometimes chestnut puree. A lot of families prepare fish soup instead of fried fish that night.
As this year I am going to be the chef and my family is not vegetarian, I am going to prepare the following dishes for the 25th and 26th: stuffed cabbage; turkey stuffed with wild rice and cranberry; roasted beetroot and red onion salad with walnuts and feta cheese. I'm not sure how I am going to work with the turkey though… I have mixed emotions about it. Probably I'll leave the task to my husband. Recipes follow in the next entries.
Merry Christmas to All!